Day in the Life of a Marketing Intern at eContractHub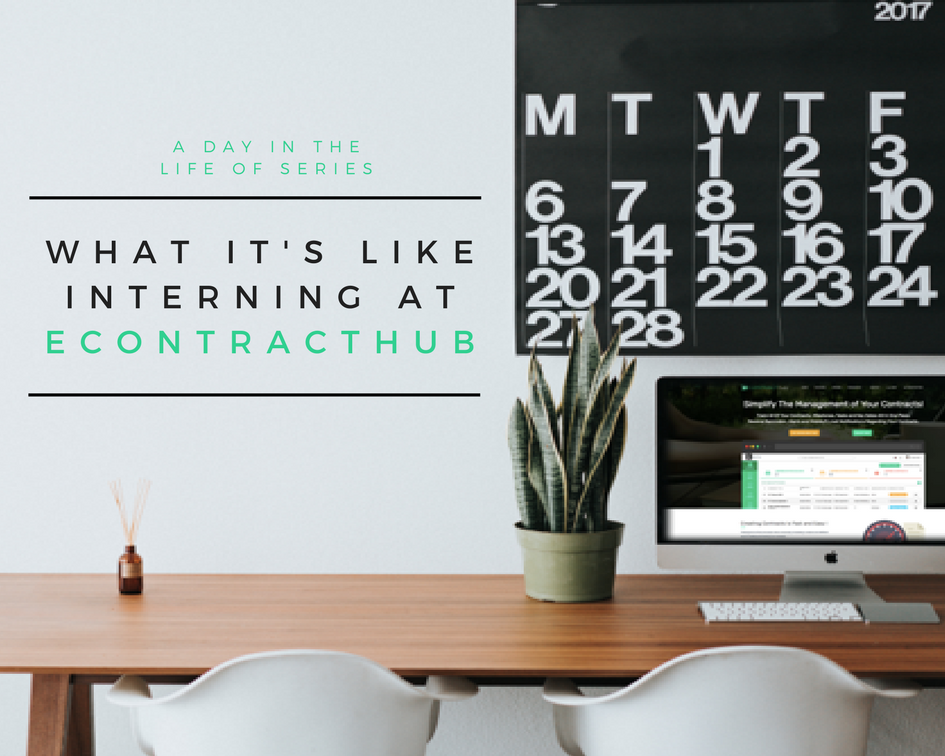 Hello, I'm Sarah, the new Marketing intern at eContractHub. No two days are the same for me. Key reason for this is also because I am studying for a Master's full-time concurrently. That means my working hours is not your typical 9-5, I work in between classes and assignments and have specific hours of the week that I dedicate for this role.
My responsibilities are mainly to do with managing eContractHub's social media accounts and the overall advertising and promotion activities of the platform. In short, I get to propose and schedule content that goes on our social media profiles. But this also means that I have to know the ins and outs of the platform so that if there are any queries, I can easily address them on social media!
Since no two days are the same, it's a little hard for me to do a Day in the Life but I'll try anyway:
9.00 am: Quick breakfast. Usually a bowl of cereal with bananas and coffee. Must. Have. Coffee.
9.39 am: Prepare my workspace area. Although I work remotely, I still need to work at a desk with all my stationery out and never forget, Coffee.
10.00 am: Quick check-in to the team (via Slack/WhatsApp) to let them know that I'm online in case anyone needs anything. Start all the productivity apps and begin work.
11.00 am: Familiarise myself with the platform (both on my laptop and the app), making sure the website looks alright…usually you'll probably find me at the help centre page as I go through the platform. It's been very helpful!
11.30 am: Short 30-min break. This is usually just to stretch my arms and legs since I would have been staring at a screen and (most probably) hunching for the past hour. (I should really start sitting properly to save my back)
12.00 pm: Back to work. This will usually be the time when I am finishing up content to be posted for the next few days. This will be the minor edits, testing views and sending out final drafts for final approvals.
12.30 pm: Write to the team to let them know that I've tagged them on Trello for them to approve content that needs to go live in the next few days. Have a quick download to my immediate supervisor (usually via WhatsApp or Slack) to let them know what I've done or if there is anything that I need assistance with.
1.00 pm: Checking out what's pending and prioritising tasks for tomorrow so I can plan my day. Detailing tasks completed and items in my work-in-progress report so that other team members are kept up to date.
1.15 pm: Quick check with the team if they need anything or if there's anything urgent
1.30 pm:  Sign out
Okay, that wasn't too difficult. But remember, these are just rough timings, depending on the day that I'm working the hours may change but the gist of activities are pretty much the same. I love being able to work remotely, which is especially great for me since my schedule is sporadic and no week is ever the same. It probably also helps that we have the Internet to connect us all to make things so conveniently accessible.