Get To Know Our Team Series: Arif Bay, Founder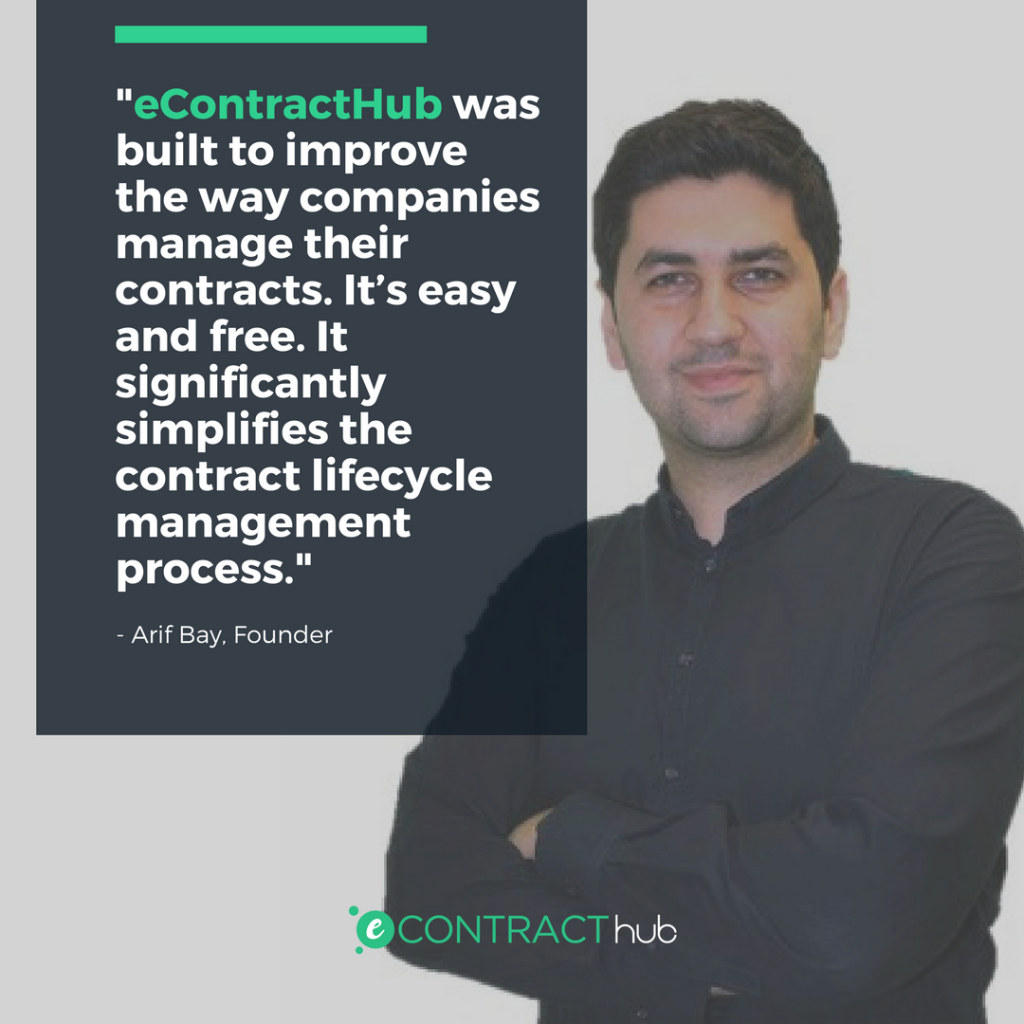 Tell us a little bit of your background
I'm an Industrial Engineering graduate and hold a Masters Degree in Information Systems. I started my career in Turkey in a software company and specialised in business process management. After working a few years for this company, I traveled to the U.S. to further my studies and look for new opportunities. I created some business connections during the time I spent in the U.S and in 2013, founded BAYPM, a web and mobile applications building company for enterprise grade companies across a number of industries, from retail to finance.
After providing a number of services in the U.S. and delivering solutions for organisations in Turkey and Europe; I decided to explore the product route, hence my move to London to set up eContractHub. I'm the Managing Director of the company and I oversee the internal development team, optimise internal processes and approve product designs. I also drive the executive and operational management of the company.
How did eContractHub come about? 
My co-founder, Luis and I have been developing tailored solutions for years. We have developed 4 different contract management solutions for 4 different company and industry in the U.S: One day, we were chatting about the benefits of contract management and how it would be if we create an SaaS solution for companies who can't afford a tailored solution to benefit from. This was 3 years ago, before wet met OutSystems. We were using some other RAD tools and developing custom coded solutions then, but this had significant constraints and custom coding was not an option.
Meeting OutSystems was the turning point. After creating a few applications and on the platform, we realized it was the tool we needed to create the app we dreamed of. Our developers adopted the platform in a short time and it provided us all the abilities and ease to create the first phase of the application while designing the future of the product with confidence.  In October 2017, we released the first version of the product including the mobile app.
What is the working culture like at eContractHub?
We believe we should enjoy our time at work. Reducing stress of our employees as well as our clients is our priority. We can make contract management as easy task for companies. Our goal is the provide the best solution for people dealing with contracts, for them to have more time to do other things during the day. With eContractHub, users have flexibility. They can access or approve a contract even on the go with mobile app. At eContractHub we work with people who believes the importance of responsibility and flexibility.
What are eContractHub's values as a company?
eContractHub exists to improve the way people deal with contracts in all aspects. from preparation to negotiation. While working on that, we are committed to transparency. We know how we can improve the contract lifecycle. We are aware of what we can propose and what we can't. We continuously improve and evolve our product to keep cost-benefit ratio high. No payment if there is no benefit. That's why we have a free option with no time limit. We want companies to use eContractHub for free until they see the value of it. Also, It's not easy to make an investment for small companies so we make it risk free. Our goal is to grow together.
In 3 words/short phrases, how would you describe eContractHub?
 eContractHub was built to improve the way companies manage their contracts. It's easy and free. It significantly simplifies the contract lifecycle management process.